Oracle APEX Advanced
This course is only available in Dutch, please contact us for more information.
Met Oracle Application Express (APEX) is het mogelijk om in korte tijd webbased applicaties te bouwen. De leercurve om met APEX te werken is bijzonder klein. Zeker diegenen die ervaring met Oracle (SQL en PL/SQL) hebben, zijn in staat om al in korte tijd fraaie applicaties te bouwen. Het feit dat er met wizards wordt gewerkt, dat er themes en templates beschikbaar zijn en het feit dat er niet veel programmeercode geschreven hoeft te worden zorgt voor een hoge productiviteit. Toch zal een ontwikkelaar die wat langer met APEX werkt nog hogere eisen stellen aan zaken als security en authenticatie, look and feel van de applicatie, interactiemogelijkheden van de interface en aan de communicatie tussen de applicatie en de database. Ook voor dit soort geavanceerde functionaliteit biedt APEX mogelijkheden, of bieden HTML en JavaScript (die in APEX toegepast kunnen worden ) mogelijkheden.
Onze APEX-specialisten hebben op basis van hun praktijkervaring een lijst van advanced onderwerpen opgesteld die in deze tweedaagse cursus aan de orde komen. Behalve voor theorie is er in deze cursus ook ruimte voor het toepassen van de theorie.
SUBSCRIBE
U leert
Hoe u met behulp van CSS uw eigen theme vormgeeft
Hoe u Ajax en JavaScript-library's gebruikt
Wat de exporteermogelijkheden zijn en hoe u applicaties deployt
Hoe u custom authentication opzet
Hoe u een applicatie debugt en performanceproblemen oplost
Hoe u APEX-collections inzet in custom processen
Onderwerpen
Advanced page processing
File-handling
Publieke APEX API's
Interne APEX API's
PDF printing
Advanced Interactive Reports
Custom authenticatie, LDAP en SSO
Webservices
Security
Performance & debugging
Javascript, AJAX & Advanced Dynamic Actions
APEX Plug-ins
Subscribe
Doelgroep
Deze cursus is bedoeld voor ontwikkelaars die al enige ervaring hebben in het bouwen met APEX. Personen die willen beginnen met APEX raden we de cursus Oracle APEX: Fundamentals aan.
Voorkennis
Kennis van APEX op het niveau van de cursus Oracle APEX: Fundamentals en kennis van HTML en JavaScript op het niveau van de cursus Introductie HTML & CSS en de cursus JavaScript: Client side is een vereiste.
Subscribe
Price per person
€ 1.300,- (excluding VAT)
Duration of this course
2 days
Course dates
7 - 9 february 2023
12 - 14 april 2023
13 - 15 june 2023

The teacher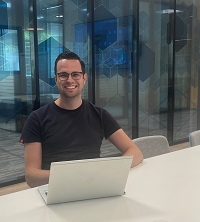 "I enjoy sharing my Oracle APEX knowledge and experience with students."
Boyd Timmerman
Share this training