Oracle APEX Fundamentals
This course is only available in Dutch, please contact us for more information.
Voor het ontwikkelen van een database-driven website op een Oracle database bestaan er vele wegen naar Rome (Java, .NET, php etc.). Met Oracle Application Express heeft Oracle een tool op de markt gebracht waarmee ontwikkelaars een gemakkelijk te leren en krachtig ontwikkeltool wordt geboden. Door het gebruik van vele wizards en standaardcomponenten kan er snel en eenvoudig een complete webapplicatie worden gerealiseerd. Voor de implementatie van specifieke functionaliteit en custom behavior van de standaardcomponenten wordt gebruik gemaakt van PL/SQL. Reeds aanwezige PL/SQL kennis kan hiervoor dus worden ingezet.
SUBSCRIBE
U leert
Wat de structuur is van de Application Express (APEX) ontwikkelomgeving
Hoe een applicatie in Application Express wordt opgebouwd
Hoe u gebruik kunt maken van standaardcomponenten
Hoe u kunt navigeren tussen de pagina's van uw applicatie
Hoe u uw applicaties kunt vormgeven
Onderwerpen
Inleiding en SQL Workshop
Application builder
Reports
Forms
Pages, Regions en Items
Session State
Navigatie
Reports (vervolg)
Validations, Computations en Processes
Charts, Calendars en Wizards
LOV's, Themes en Templates
Dynamic actions
Subscribe
Doelgroep
Deze cursus is bedoeld voor ontwikkelaars die een snel en eenvoudig alternatief zoeken voor het ontwikkelen van webapplicaties op basis van een Oracle database.
Voorkennis
Kennis van SQL en PL/SQL op het niveau van de cursus Oracle: Werken met SQL en de cursus Oracle: PL/SQL programmeren is een vereiste.
Subscribe
Price per person
€ 1.950,- (excluding VAT)
Duration of this course
3 days
Course dates
5 - 7 june 2023
7 - 9 august 2023
2 - 4 october 2023
4 - 6 december 2023

The teacher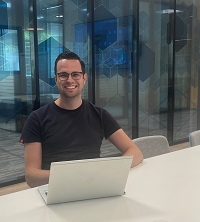 "I enjoy sharing my Oracle APEX knowledge and experience with students."
Boyd Timmerman
Share this training
This training is also part of
Related training courses