Oracle APEX Case
This course is only available in Dutch, please contact us for more information.
In de praktijk is gebleken dat het ook na goede basiscursussen bepaald niet meevalt om productief in een complexe Oracle-ontwikkelomgeving aan de slag te gaan. Daarom biedt Transfer de mogelijkheid om het geleerde in de praktijk te brengen door middel van casussen. Hiermee wordt een brug geslagen tussen de basiscursussen en de praktijk.
In deze casus bouwt u een applicatie voor het bedrijf " Vandaag Besteld Morgen Geleverd (VMBG)". Deze applicatie bestaat uit een back-office-gedeelte en uit een bestel-site.
SUBSCRIBE
U leert
Een Apex-applicatie te bouwen: U werkt alleen of in een kleine groep in een didactisch gecontroleerde omgeving en met deskundige begeleiding. Dit heeft als voordeel dat niet onnodig veel tijd verloren gaat aan onvoorziene en vaak weinig leerzame problemen en dat op typische praktijkproblemen geconcentreerd kan worden.
Subscribe
Doelgroep
Deze training is bedoeld voor ontwikkelaars die enige praktijkervaring met de ontwikkelomgeving van Oracle Application Express willen opdoen.
Voorkennis
De inhoud van onderstaande cursussen wordt dan ook als voorkennis voorondersteld:
Subscribe
Price per person
€ 1.950,- (excluding VAT)
Duration of this course
3 days
Course dates
8 - 12 june 2023
10 - 14 august 2023
5 - 9 october 2023
7 - 11 december 2023

The teacher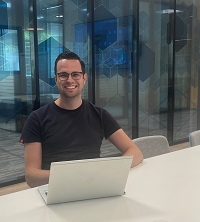 "I enjoy sharing my Oracle APEX knowledge and experience with students."
Boyd Timmerman
Share this training
Related training courses